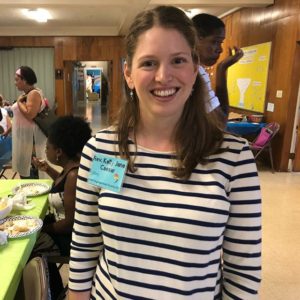 REV. KELLY JANE CAESAR
Pastor
Rev. Kelly Jane Caesar is our dynamic and energetic pastor. A graduate of Smith College and Yale Divinity School, she has served at Judson Memorial Church (New York City), Broad Street Ministry (Philadelphia), and Second Congregational Church of Jewett City (Connecticut). In her own words:
"I imagine the Church as an eclectic quilt expressing the story of God's love for all. If each member is a unique patch of particular talents, the minister looks at the gifts of each patch and helps to tie them together. The quilt is beautiful in and of itself – just as the Church as a community can be beautiful in and of itself."
My ministry is rooted in listening. Listening to the still small voice of God, every morning during my "tea time with God." Listening to the passions and hopes of the congregation, in meetings and in prayers. Listening to the needs of the surrounding community, by being out in the community. Listening with pastoral compassion to those struggling through the trials of Good Friday.
Having studied dynamic church growth in two major urban centers, I am committed to extravagant welcome through creative and innovative ministries for the 21st century Church. I enthusiastically encourage a congregation to follow God's distinct call to love in ways that resonate in their specific community today."
LOUISE HOLMES
Christian Education Director & Ministry Program Assistant
Louise Holmes, our director of Christian Education, is a life-long member of First Congregational Church. Louise has a Bachelor of Science Degree in Elementary Education and has been coordinating all children and family related activities at First Church since 2000.  In 2017 she started as the Ministry Program Assistant to support church members and staff in the ministry of the Church.  She answers the door, coordinates the calendar, prints bulletins, and otherwise find the resources people need to share God's love!
JERRY K. SCHEINFELDT
Director of Music
Jerry K. Scheinfeldt has been Director of Music and Organist at First Congregational Church for 20 years, with more than 25 years experience overall as a choral conductor and organist since 1986, so he brings more than 30 years experience as a choral conductor and organist to our music ministry. He is a graduate of Amherst College (Summa cum laude, Phi Beta Kappa—French) with a minor in music, where he studied voice, organ, composition and conducting. A professional pianist since age 12 including summer stock theatre, dance bands, lounge piano and accompanist, he is also a member of Mastersingers, USA, an internationally acclaimed male chorus.