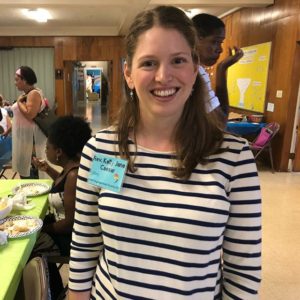 REV. KELLY JANE CAESAR
Pastor
Rev. Kelly Jane Caesar is our dynamic and energetic pastor. A graduate of Smith College and Yale Divinity School, she has served at Judson Memorial Church (New York City), Broad Street Ministry (Philadelphia), and Second Congregational Church of Jewett City (Connecticut). In her own words:
"I imagine the Church as an eclectic quilt expressing the story of God's love for all. If each member is a unique patch of particular talents, the minister looks at the gifts of each patch and helps to tie them together. The quilt is beautiful in and of itself – just as the Church as a community can be beautiful in and of itself."
My ministry is rooted in listening. Listening to the still small voice of God, every morning during my "tea time with God." Listening to the passions and hopes of the congregation, in meetings and in prayers. Listening to the needs of the surrounding community, by being out in the community. Listening with pastoral compassion to those struggling through the trials of Good Friday.
Having studied dynamic church growth in two major urban centers, I am committed to extravagant welcome through creative and innovative ministries for the 21st century Church. I enthusiastically encourage a congregation to follow God's distinct call to love in ways that resonate in their specific community today."
Rev. Kelly Jane is married to the kindest gentleman and mother to the cutest baby.
Listen in to this podcast interview where Rev. Kelly Jane shares her story of being called to ministry, her approach to pastoral leadership and racial justice, as well as her vision for the future of the church.
Checkbox Other Podcast with Rev. Kelly Jane
LOUISE HOLMES
Christian Education Director & Ministry Program Assistant
Louise Holmes, our director of Christian Education, is a life-long member of First Congregational Church. Louise has a Bachelor of Science Degree in Elementary Education and has been coordinating all children and family related activities at First Church since 2000.  In 2017 she started as the Ministry Program Assistant to support church members and staff in the ministry of the Church.  She answers the door, coordinates the calendar, prints bulletins, and otherwise find the resources people need to share God's love!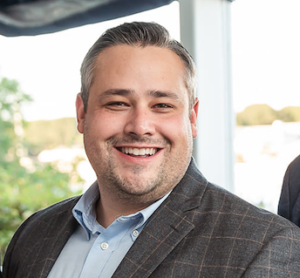 Rob McCrann
Director of Music
Rob's passion for music began at age six, ironically when he would venture to a neighborhood friend's house with the intention of joining in on some sort of sport. He would quickly lose interest and always find himself at the piano in the family's living room. While playing by ear came naturally, he enrolled in piano lessons and learned to read music.
In high school, after attending a service at a church with a pipe organ, he was inspired by the power and majesty of the instrument and began taking organ lessons at Center Congregational Church in Hartford, CT. Rob spent several years supplying at various churches in the area.
Rob attended Muhlenberg College, a Lutheran (ELCA) affiliated liberal arts college in Allentown, PA, where he accompanied the college Gospel Choir and performed in various small ensembles on campus. Rob graduated in 2009 with a double major in Music Performance and Accounting.
In July of 2009, Rob accepted the Minister of Music position at Faith Lutheran Church (ELCA) in East Hartford, CT, where he served until 2022. At Faith Rob oversaw all aspects of a vibrant music ministry including direction of the Voice Choir, Praise & Worship Ensemble, and coordination of concerts with local performers. After leaving Faith, Rob served for a short period of time as Organist & Choirmaster at Enfield Congregational Church, UCC.
When not making music, Rob works in accounting and operations at a manufacturing company in South Windsor, CT. He lives in Bloomfield, CT with his partner, Jason, and enjoys interior design, boating, biking, cooking, and spending time with friends and family.