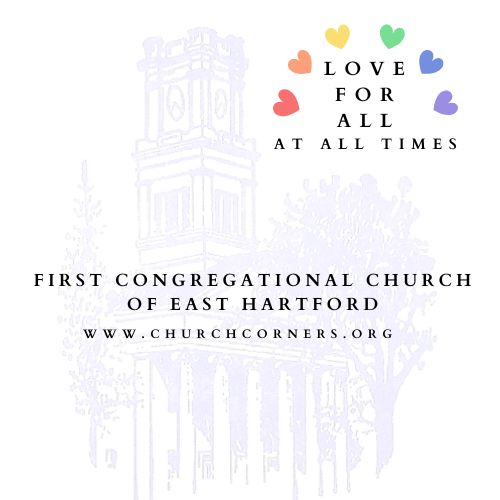 First Congregational Church of East Hartford is a diverse faith community overflowing with love for God and Neighbor.
We are:
Nourishing our relationship with God in interactive, music-filled, Christian WORSHIP.
Our Worship Priorities include:
Christian: Bible-based, sacraments, and discussion of Jesus
Music-filled: congregational hymns and choir
Interactive: lay participation in worship leadership and interactive, less lecture style sermons/exploration of scripture
Nourishing our diverse community with deep FRIENDSHIPS.
Our Friendship Priorities include:
Deepen Friendships through regular small groups, pastoral email, and visits with one another
Diversity: deepen understanding of oppression and our Open and Affirming commitment through regular educational opportunities and update our building to be more accessible to all ages, abilities and genders.
Intergenerational: support our Sunday School for children and other activities across generations
Nourishing our NEIGHBORS in collaboration with other faith communities and the wider church.
Our Neighborhood Priorities include:
Support for the missions of the wider United Church of Christ 
Working to disable racism in our society through education and action
Advocating for GLBT Concerns by making our rainbow flag more visible
Alleviating Hunger through the community garden and soup kitchen support 
Education through the Woodward House Education Program, YMCA, and Scouts