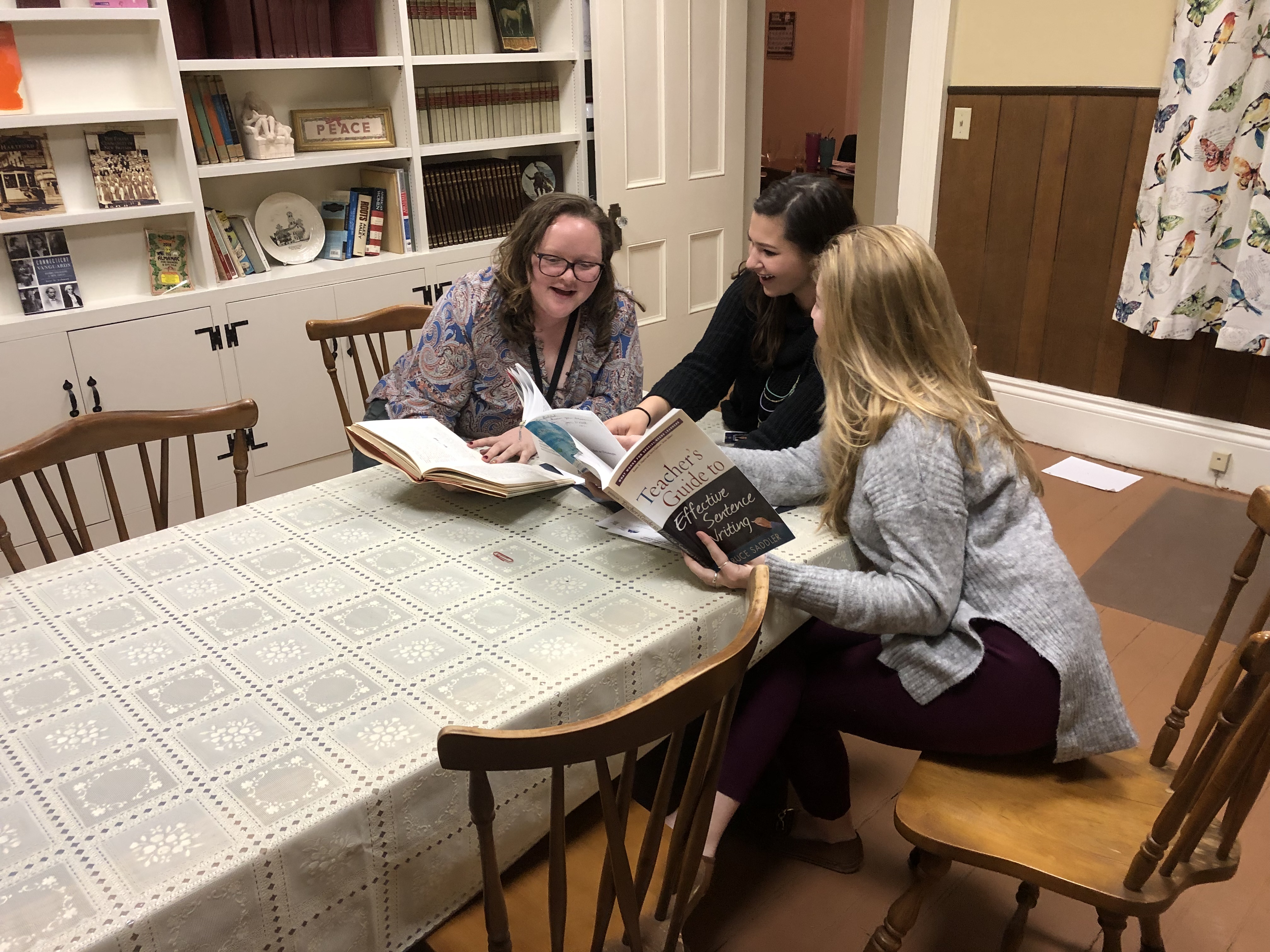 Live in the community you serve.
Live in a community of service members.
Live in a community of support and care.
First Congregational Church of East Hartford provides free housing, community support and connection for young adults pursuing a year of service.
First Congregational Church of East Hartford offers free housing for one year on Main Street in East Hartford for young adults pursuing a year of community service and/or a career in urban education who desire a deeper involvement with the community while working in the public schools or similar service site in East Hartford or the surrounding area.  Living in the community you teach/serve allows you a far deeper understanding of the environment your students are learning in.  Living in a home with others serving provides extra support (and fun) in what can be a challenging setting.
Why is a church doing this?
The church's historic parsonage (home for the pastor) was vacant and the congregation wanted it to be put to good use – something that would serve the wider community. The church has a long history of serving the community. Plus, we are a fun community that knows something about hospitality. 🙂
Where does this take place?
You can work in East Hartford or a similar nearby town/city as a entry-level educational professional (such as a tutor) or an Americorps member (such as FoodCorps, vista programs, counseling interns, etc.). Those in 5th-year masters of education programs are also welcomed. You apply directly to the program you wish to do.
The Woodward House is in East Hartford – home to many bike paths, parks, including a riverfront park, and a newly renovated library (across street from church housing).  East Hartford and Hartford, right over the river, hosts free concerts on the green, free Winterfest activities, free yoga in the park, delicious restaurants, comedy clubs, improv groups, craft beer breweries, funky coffee shops, and dancing of all varieties.  Church housing is on multiple bus routes running consistently into Hartford (10 minute ride).
What does an average day look like?
During the day your work will depend on the specific position you are hired for.  Tutors will assist certified teachers by leading small groups of children behind in a specific area.  Substitute teachers will lead a classroom in the primary teacher's absence. FoodCorps members will teach nutrition and food. Other year of service program participants welcomed.
What about finances and healthcare?
Participants receive their salary and any benefits from the school or Americorps program from which they are hired. The church does not provide any stipend.
Free Housing?
The First Congregational Church of East Hartford welcomes residents to live in the Woodward House on Main Street, rent-free.  This progressive and diverse congregation has a long history of town involvement and will connect residents to town events, services, and community.  Residents living in church housing are expected to delve deeper into the community in ways meaningful to them, spending approximately 8 hours a month on community service outside of their direct service.  Residents may tend the community garden, collect or distribute food for the food bank, present programs to the wider community on topics of interest to the resident, participate in social activities…many more ideas listed below.
Some House Pictures: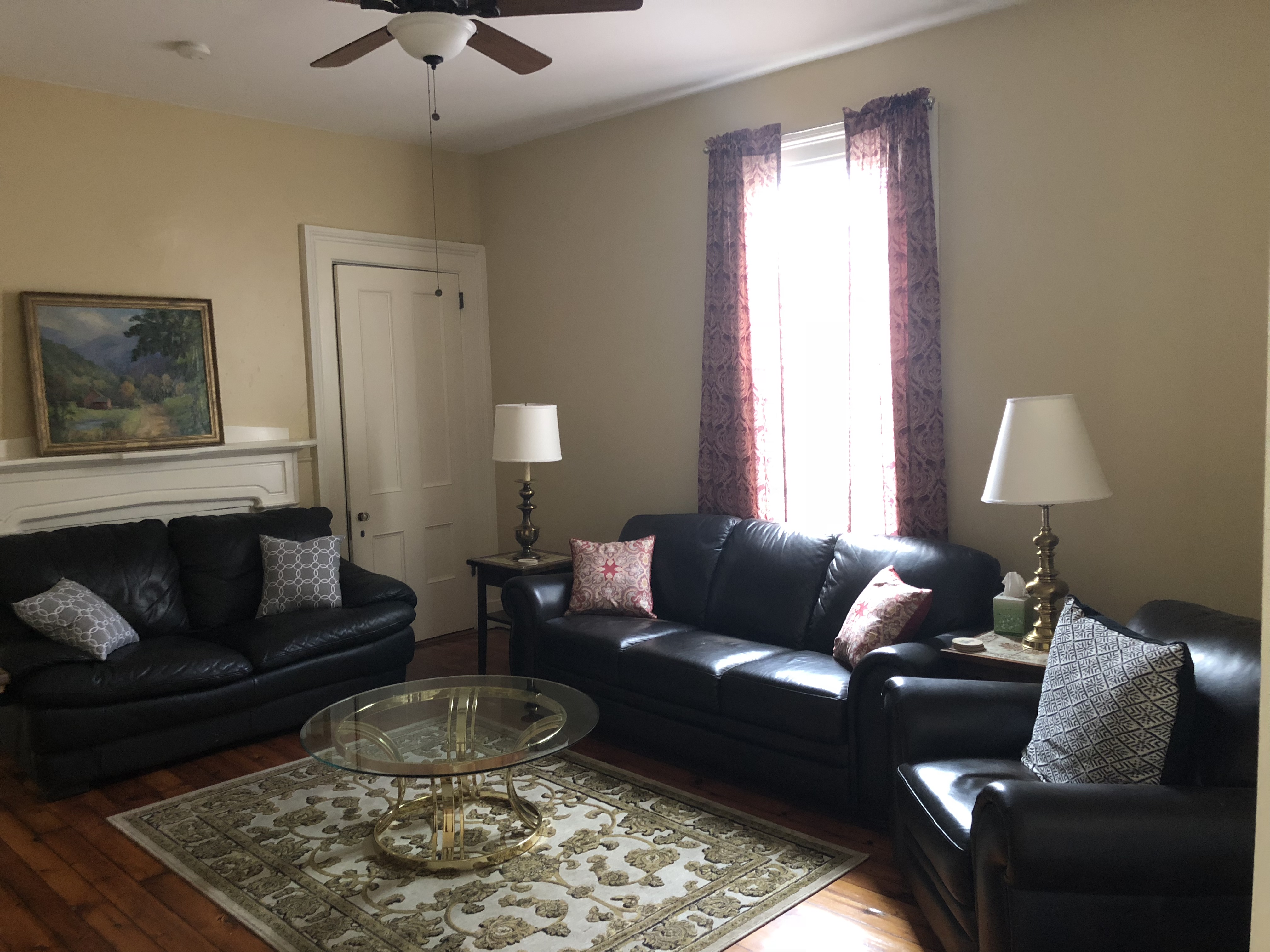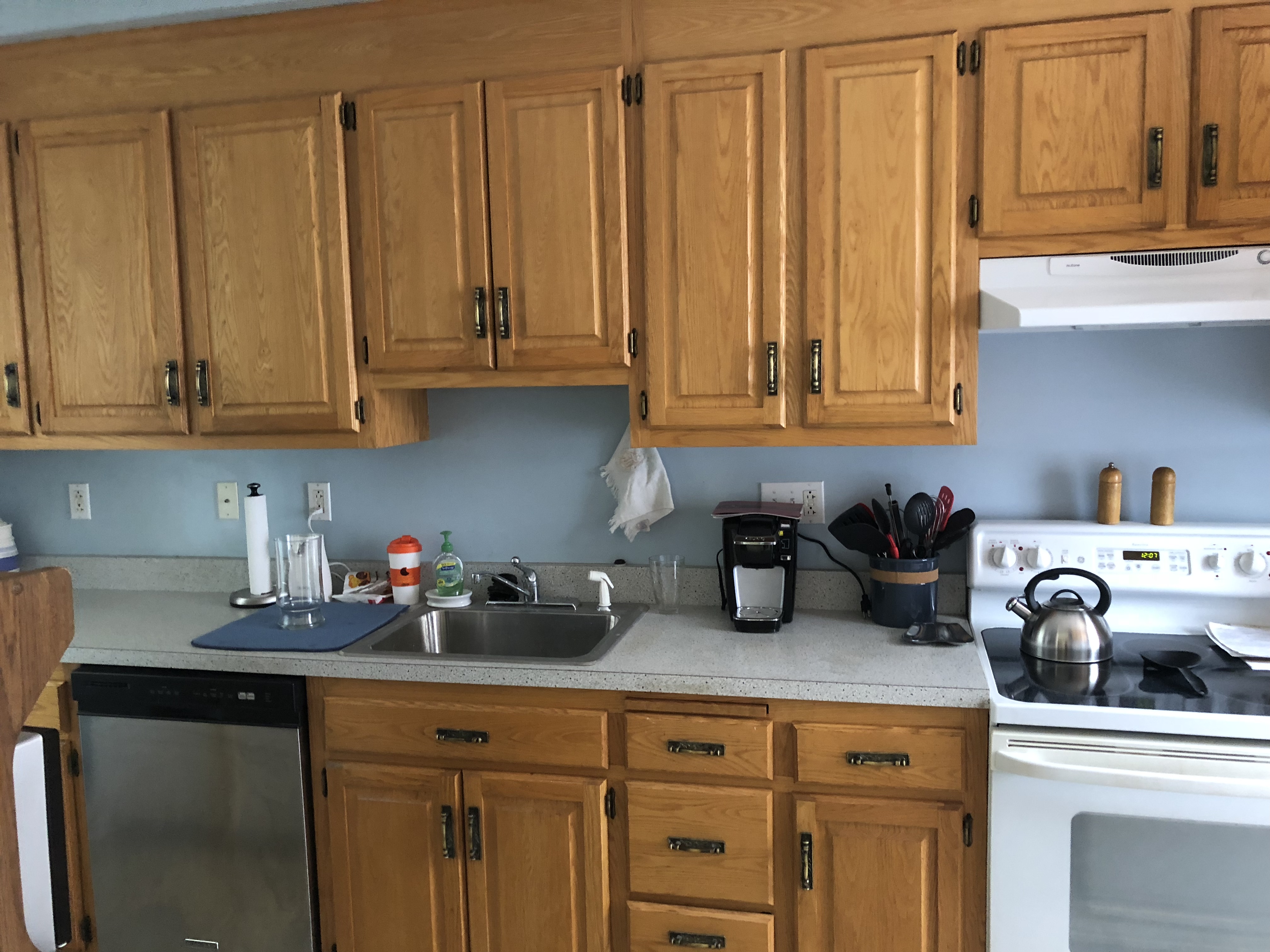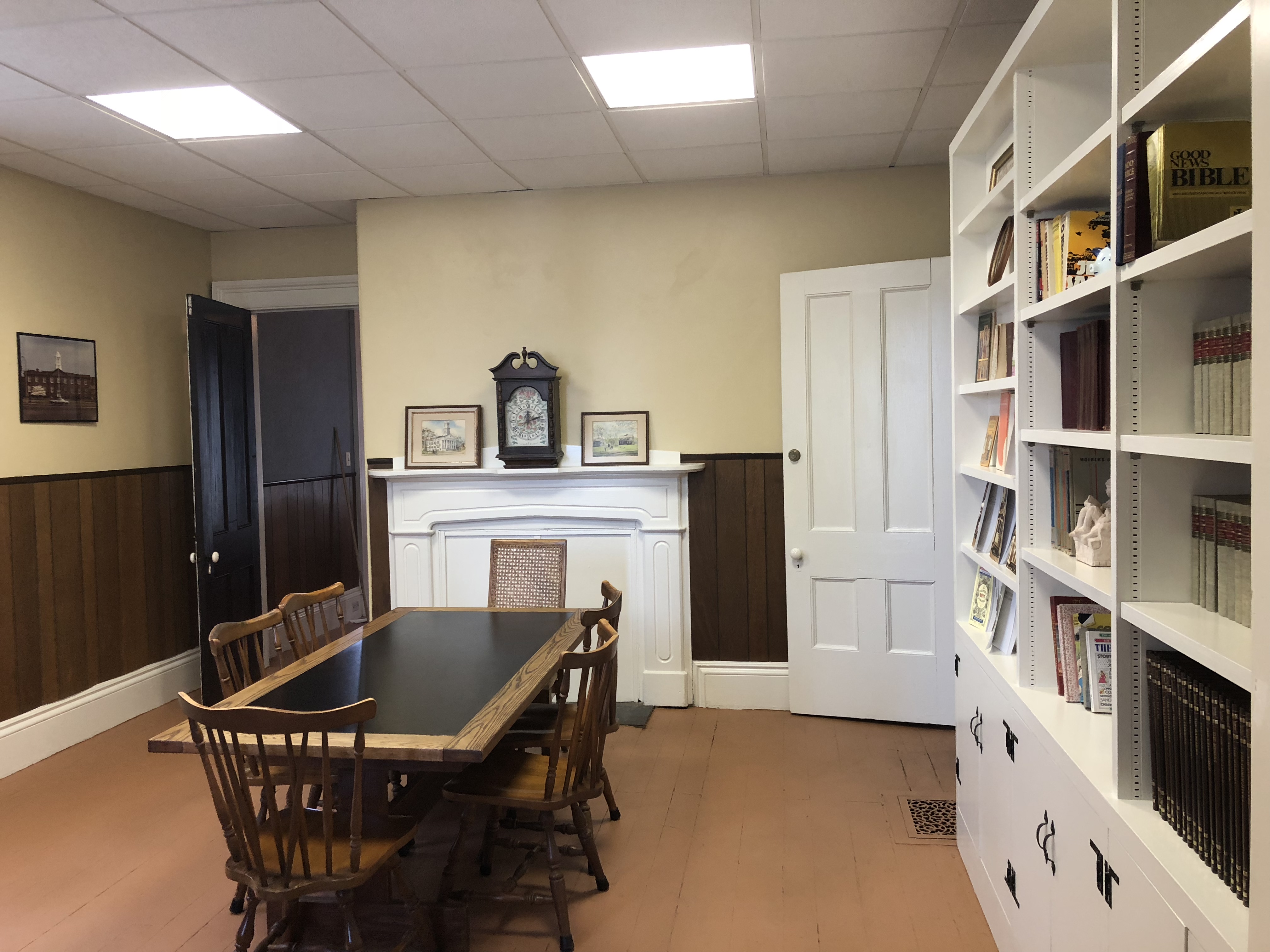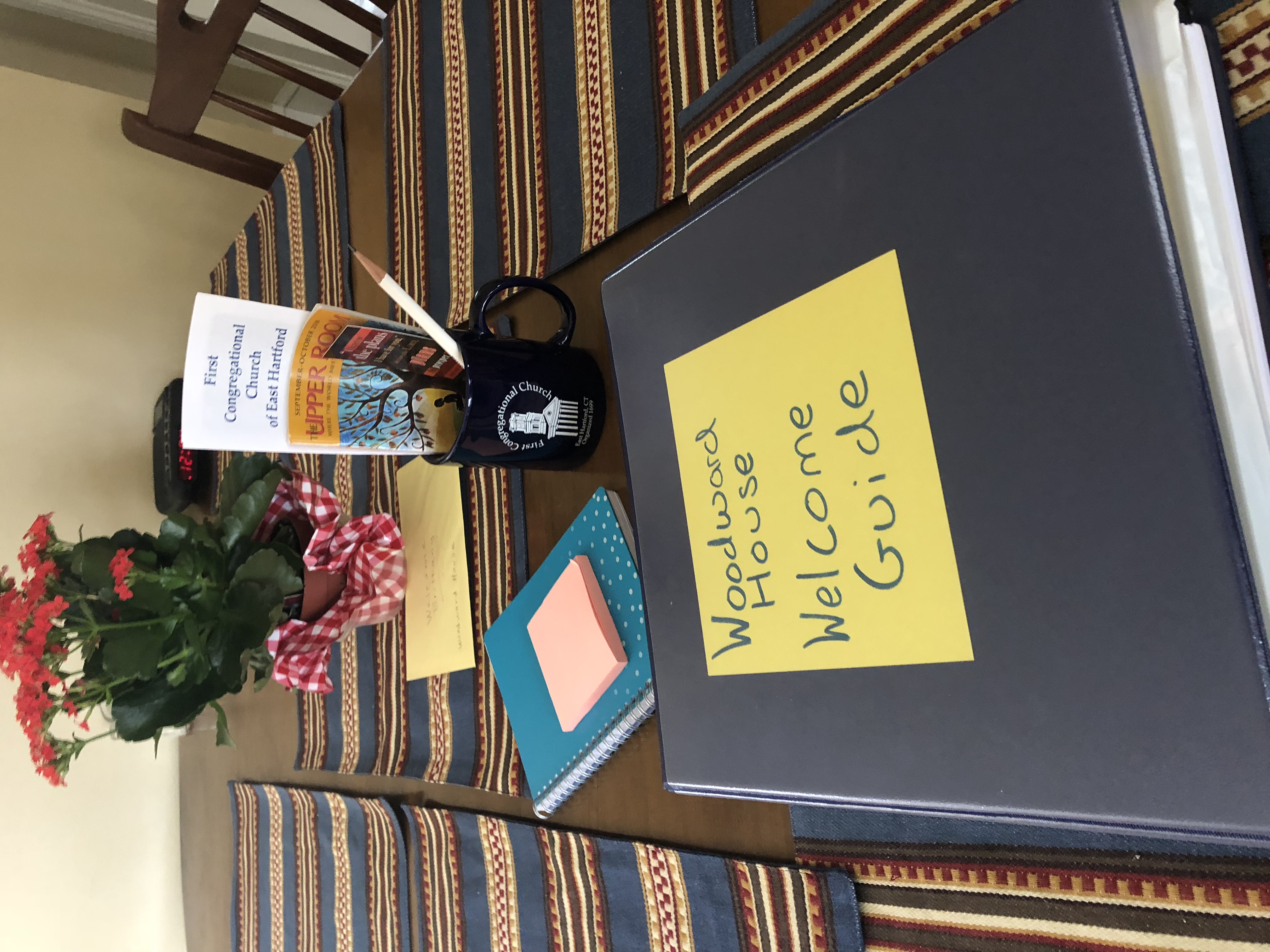 Why live in Church Housing?
Living in the community you teach and serve, allows you a far deeper understanding of the environment your students are learning in. Church housing places you in the heart of East Hartford, right on Main Street across from the public library, town hall, the Board of Education and cultural center.  The church members know the history and culture of the area and how it may be impacting those you are serving or teaching.
Living in a community of other young people navigating similar programs provides tangible support. Relief and joy come from sharing the delights and challenges over dinner.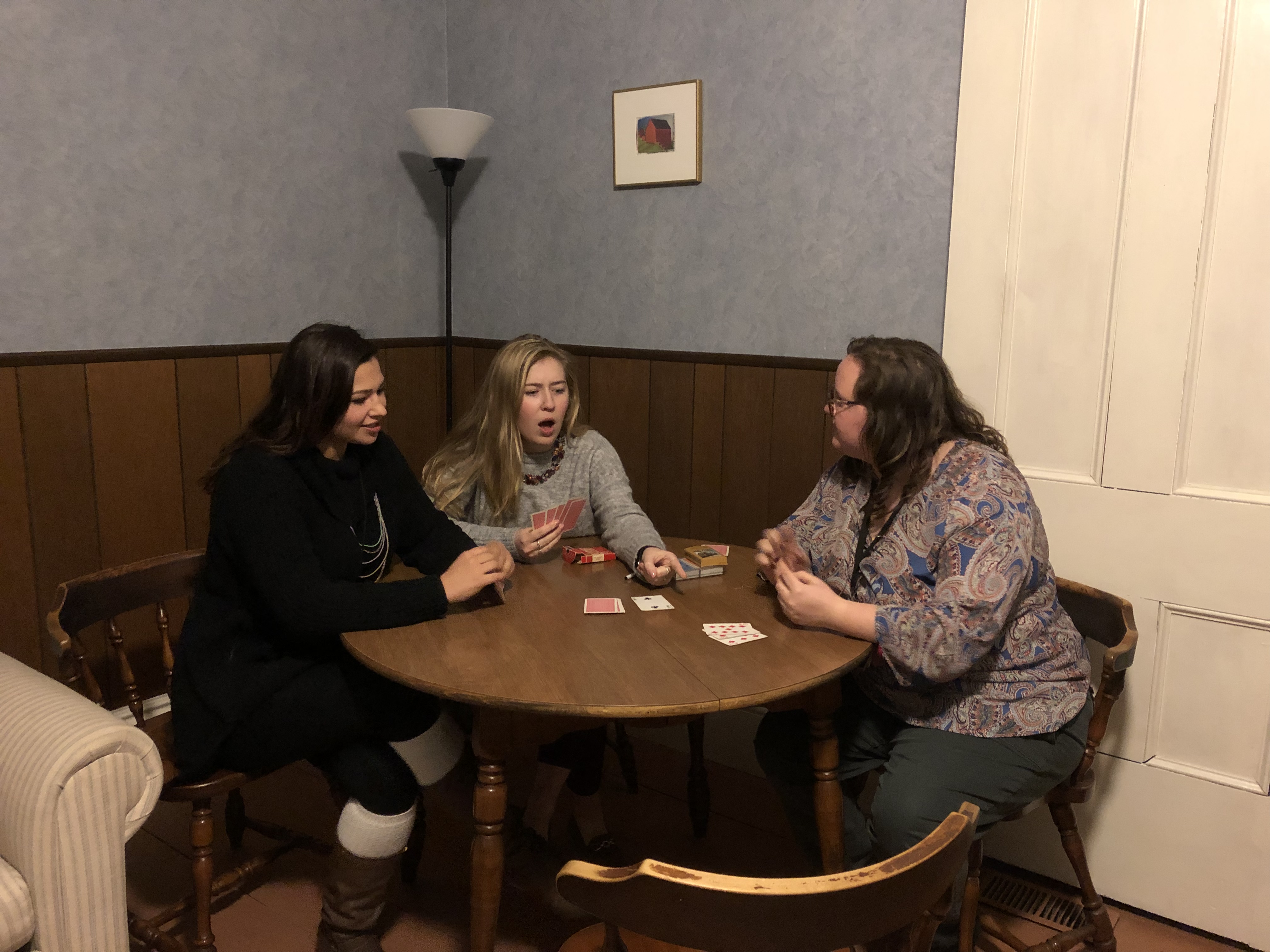 What is the relationship between the church and the residents?
The relationship between church and residents is intended to be one of mutual learning and growth, where we can work together as a chosen family to make meaningful change in our world.   We want you to look back and think of the church as the fun family that was overflowing with love and support during your year of service. Church members will support you in any program you choose to do for your service hours and connect you to resources in town.
How does the church support the residents?
Fully furnished living accommodations. Kitchen stocked with every utensil and cooking equipment you could need. Private bedroom with bed, closet, dresser, blinds, ceiling fan, etc. The house also includes a living room, dining room, library/study, and mini-reading/prayer/meditation room.  Bring your clothes and bedding and you are set for the year.
Personal Tour Guides. The church members know all the ins and outs of the town (and surrounding towns) to help you find everything from the best grocery store to bike paths to free concerts.
Welcome Wagon filled with essentials to help you get settled in your new home.
Weekly mentoring meetings and field trips (meetings become monthly if mutually desired)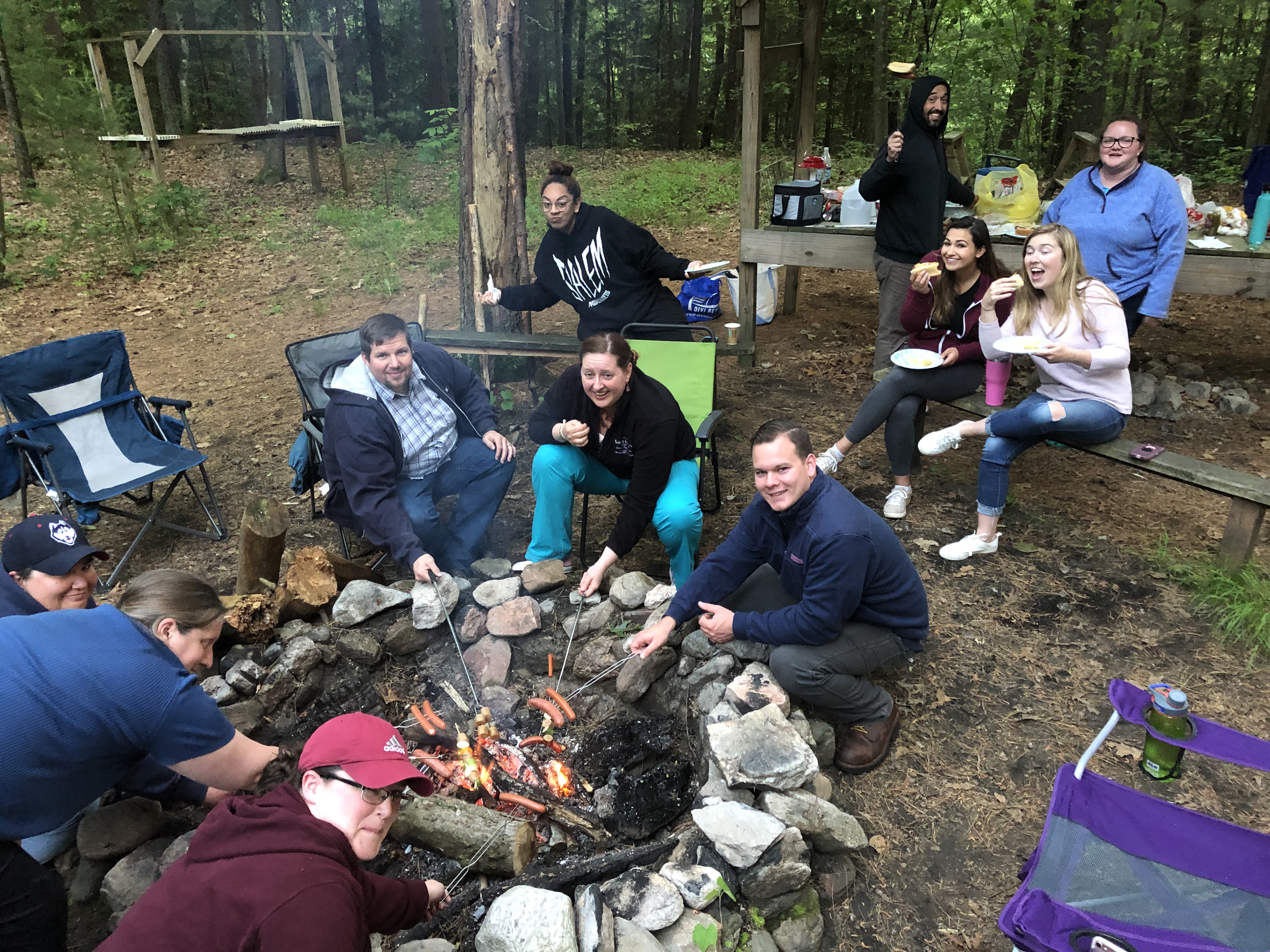 What sort of training and mentorship is provided?
Residents living in church housing will meet regularly with the house mentors. Mentors for 2022-2023 included a current special education preschool teacher and a proud grandma and social activist. They will provide space for reflection and coordinate workshops for residents as desired.  House meetings are times for laughter, learning, and comfort during challenges. House meetings also include "field trips" to learn more about the town and community. House meetings are tailored to fit the needs of residents. They start off on a weekly basis and often transition to monthly as residents become more comfortable in their setting.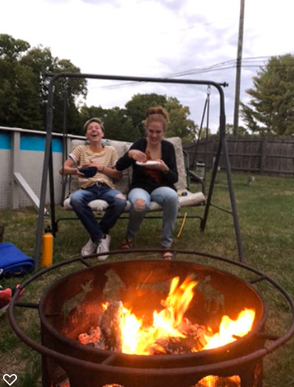 What are the expectations of the residents?
Residents are expected to delve deeper into the community outside of the school or setting they serve in, building their understanding of the impact the wider community, including church, has on students and those they serve.  To this end, residents in church housing are expected to:
Spend 8 hours a month on community service outside their direct service in their work site.
Participate in regular house meetings facilitated by the House Mentor
Respect the property and other residents as outlined in the housing agreement
Complete an end of the year evaluation
Do I need to be Christian to live in Church housing?
No, you do not need to be Christian.  However, you must be open to working with church people while serving the community as they will be great aids in whatever community service you choose to do.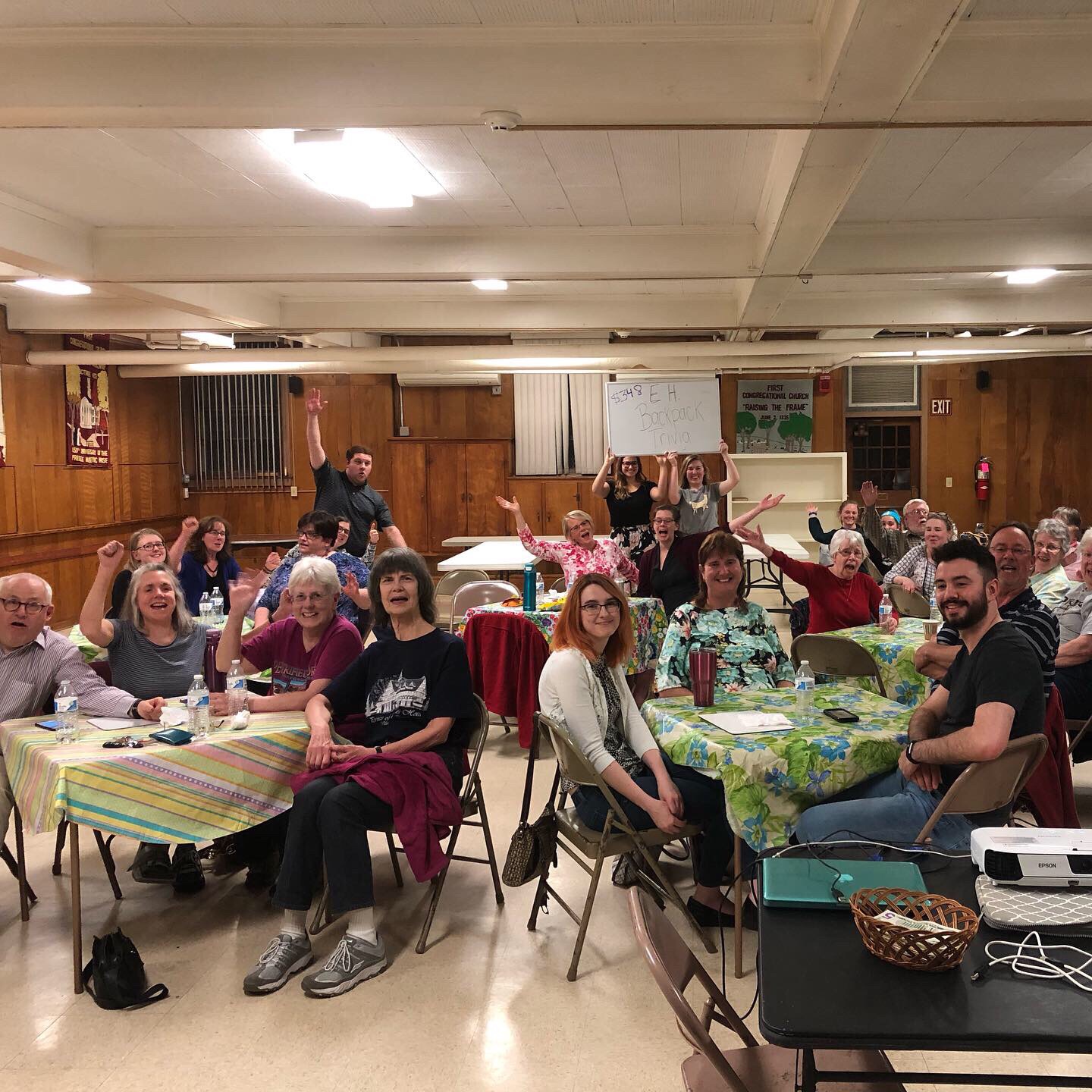 What "counts" for the 8 hours of community service?
Nearly anything that involves the church counts, but we hope you will take this opportunity to take initiative, share your unique gifts and explore your interests.  Some examples include:
Work with church Green Team on environmental issues
Tend to the Community Garden on-site
Work with Hunger Action Team in town
Coordinate a special speaker or presentation for church members on a relevant topic of mutual interest (past topics include immigration, local farming, GLBT rights, recycling, as well as FoodCorps lessons)
Organize an event for children in the neighborhood (ex. Movie night; babysitting for parents to go Christmas shopping, etc.)
Participate in one of the small groups of the church (young adult cooking and discussion group, women's group, craft nights, racial justice ministry programs, etc.) or start your own
Lead a book study or educational program
Collect goods for Christmas toy drive, food bank, supplies for shelter or other cause that is important to you (ex. one resident organized a "trivia night" to raise funds for food for school children)
Assistant teacher in the Sunday School
Attend worship (sing in choir, praise band, usher, etc.)
Serve coffee or bake goods for church coffee hour.
Help at the Pancake Breakfast which raises money for East Hartford children in need in December
Share your unique passion and gifts with the faith community!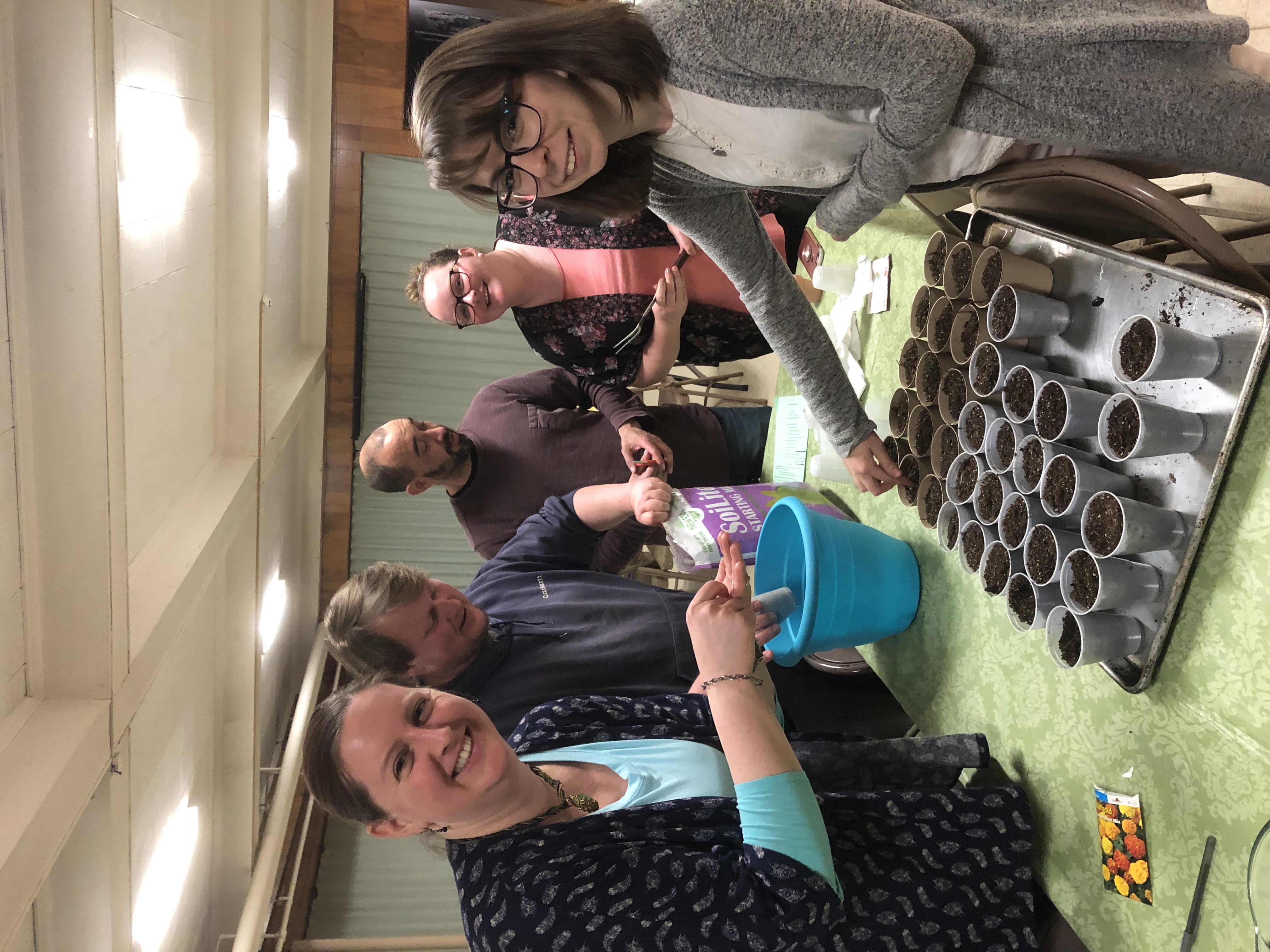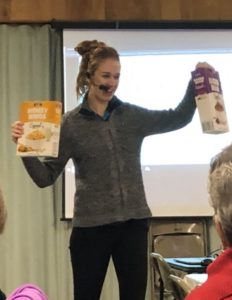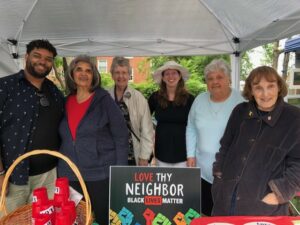 Residents join church members to help table at East Hartford Juneteenth Celebration. Visitors plant marigold seeds so love can grow.
What kind of Church is this?
First Congregational Church is a fun, open and affirming congregation of people from diverse backgrounds and different ideas.  Jesus Christ is our inspiration and our guide for our personal lives and for making a just world for all people.  We are part of the United Church of Christ (www.ucc.org) a denomination that goes back to the pilgrims and is continually on the forefront of progressive issues (i.e. first to ordain women, GLBT folks, etc.).  Our open and affirming statement says it nicely: We welcome into our full life and ministry, children of God, people of every race, culture, age, gender, sexual orientation, gender identity, gender expression, ability and economic status.   We believe that we can all grow and practice a unity of faith that will transcend our difference and together be a living testimony of God's steadfast love.  We embrace the amazing diversity of God's creation and believe everyone is created in God's image.  Therefore, everyone is unique, valuable, and loved by God.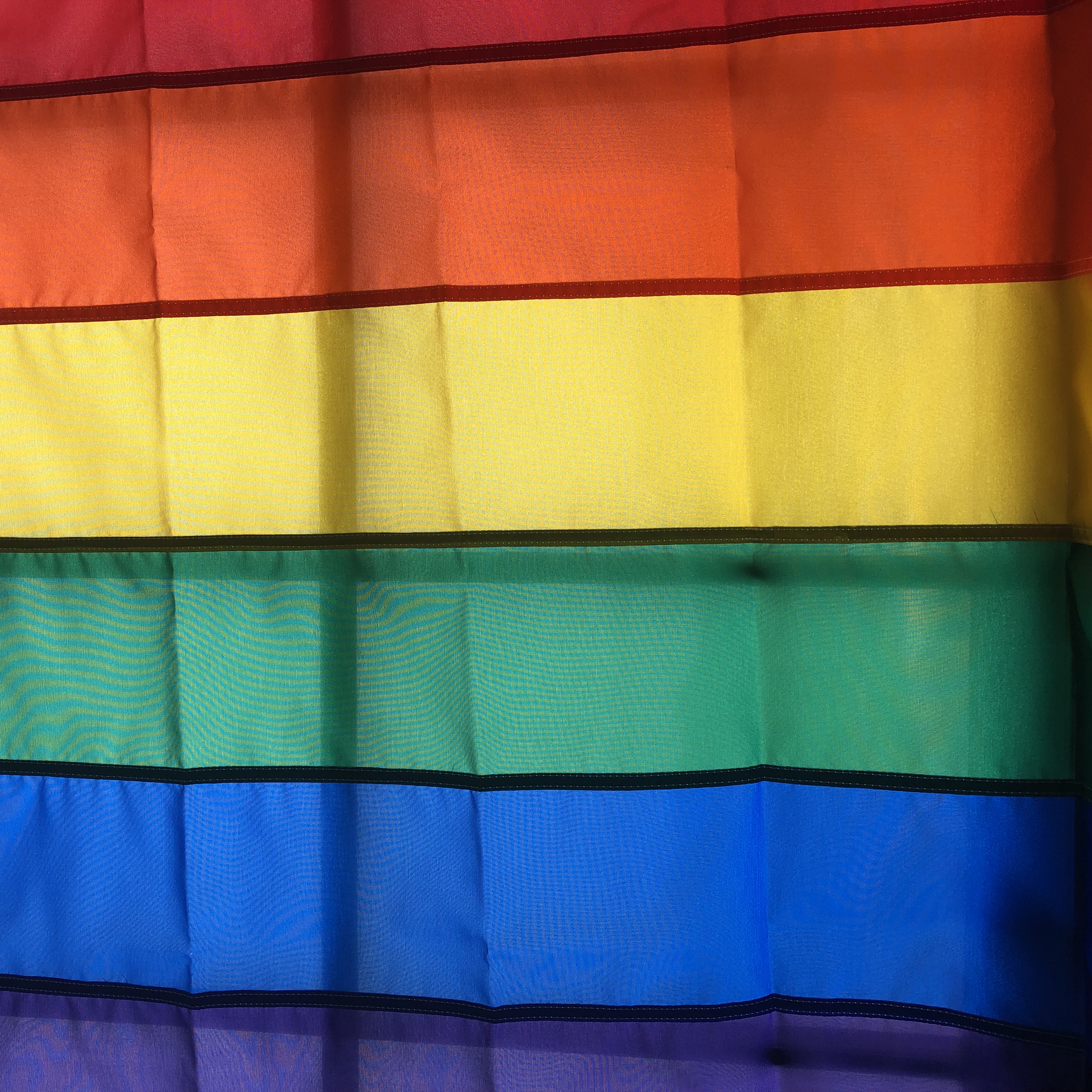 What are the house rules?
The housing agreement looks like your standard lease agreement with any apartment you would rent.   No pets.  No illegal drugs. No weapons.  No smoking.  No candles or open flames.  Be a law-abiding citizen, keep the place tidy, and take out the trash every week.  We encourage you to be good stewards of our sacred natural resources by recycling and conserving energy.
What is the next step? How do I apply?
Email your interest to Louise Holmes at the church office (office@churchcorners.org)  or call 860-528-3133.  We will schedule a simple zoom interview.  The interview will help us get to know each other, discern how you might best share your unique gifts, how we can best support you, and answer questions you may have.
Where can I learn more?
Watch the Video House Tour!{"type":"inserter","blocks":[{"clientId":"76c987c2-12de-4432-a60c-8c5dc9a49fe4″,"name":"core/video","isValid":true,"attributes":{"controls":true,"preload":"metadata","tracks":[]},"innerBlocks":[]}]}