Sermon by Rev. Kelly Jane Caesar on April 19, 2020
Denial or doubt is belief in lies; faith in falsehoods.  
Doubt is a form of despair in which we believe the crucifixion is the end – as Thomas originally did.
Denial a refusal to hope in Easter.  
The question is what do we have faith in.
Do we have faith in death or life? Despair or hope? Crucifixion or resurrection?
What we have faith in determines where and how we work, where and how we spend our lives,
Where and how we move through this "quarantine time".
As Christians we are called to be "Resurrection People" – 
People who believe and practice life in the face of death,
hope in the face of despair,
new possibilities when everything as we know it has changed.
There is a temptation to believe this time is temporary. 
At first it was just two weeks, now it's been a month,
and at least another month is ahead of us, probably more.
While I do believe in-person worship and business with return,
There is no doubt that this time not only will,  
but already has transformed our world.  
To live as a "Resurrection People" is not about believing this will be over soon and  
It is not about believing life will return as we remember it. 
Afterall, Jesus was resurrected, not resuscitated –
When Jesus rose again on Easter, he was different than he was before.
He had wounds, but he also passed through walls.
To be "Resurrection People" is to believe that after this "Good Friday" time, 
We will arise as different, renewed people.  
A Resurrection People.
So the question is how will we arise?
Where will we put our faith?
Where we put our faith determines our actions and how we emerge as individuals,
as a community,
as a global society.
On a very concrete level, I hope we will arise into a physical building. (hold up wooden church)
I believe our building is a sacred space to gather as a community larger than ourselves.
It is a shared space – not my living room or Jerry's den –
But a space for us all to gather regardless of economic or social status.
It is a space shared not just in the present, but with the ancestors of our faith.
Some of your grandparents even worshiped at First Church!
While most of us don't have a direct tie –
to be in a space that has held the faith of people for generations has a power beyond words.
I believe our building is a sacred space to gather,
and I hope that we will arise into that shared sacred space,
So I am so very glad that the trustees have continued to not only maintain the building,
But improve it.
This past week Valley Restorations finished their work on the front doors
Repainting and repairing this historic and majestic entry-points off main St. 
They also repaired windows and repainted the balcony ceiling where paint had chipped from water damage. 
They accidentally did more work than agreed upon – and donated their extra work to the church.
The Trustees and Finance committee graciously paid a little more while also receiving the donation of work and supplies. There was good will all around and a God-sighting for sure!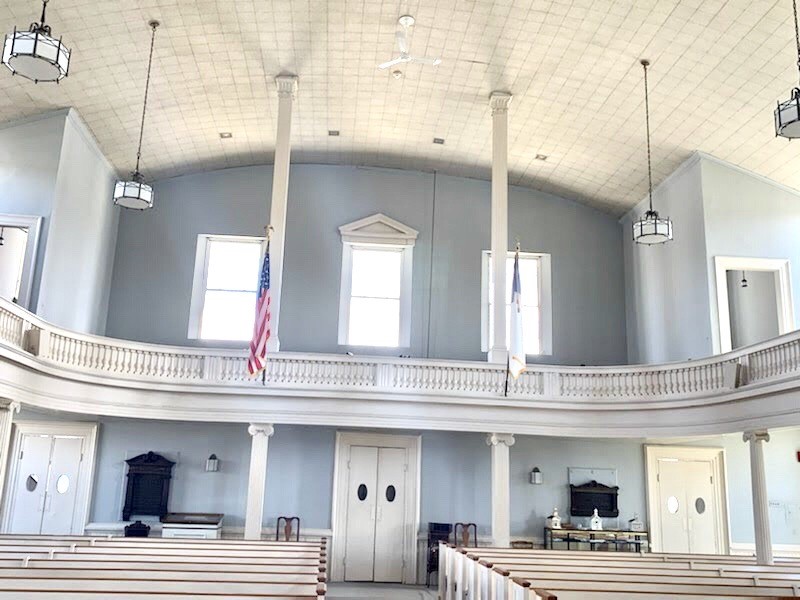 But I hope that we arise not only into a building,
I hope we will arise as a more connected people.
I believe and have faith that technology can connect us through walls and barriers that once divided.
On that first Easter the Resurrected Christ passed through walls to connect to the disciples.
Today an awe-inspiring number of church members have overcome fears and technological trials
In order to stay connected even while walls and social distancing keep us physically apart.
On Thursday night one person commented that there is more communication now than ever before.
I believe that is due in large part to each of you taking the initiative to call one another,
To read emails, attend church meetings, and otherwise keep in touch. Bravo!
While technology at times can feel like a barrier to overcome,
At other times it can be a bridge to connection that would otherwise not happen.
Those who are homebound recovering from surgery are able to join in and be seen and see others.
Young adults who have moved away are able to tune in.
Parents with young children are able to join in without the extra stress of corralling energetic young ones.
Anyone who is home sick can turn over in their bed and listen to the comfort of their faith family worshipping together.
For many technologies can be a bridge to connect to their faith community,
But technology is also a bridge for curious seekers to try out a church family.
It is easier for people to click a button to log into a worship experience –
Much easier than getting dressed and entering a place where you don't know anyone
And are unsure about what to expect.
In fact, research shows that churches with online presence over the last decade found that most new members joined in worship online first.
I believe and have faith that technology can connect us through walls and barriers that once divided.
So during this time I hope we will develop these technological tools –
As individuals and as a congregation –
so that we will arise a more connected people.
I hope we will not only be more connected to those we already know,
But during this time connect to other church members we don't know as well
And visitors who may log on to check out what an affirming church is like,
In doing so we will arise more connected in more than one way.
Not only do I hope we will arise as a more connected people,
I hope we will arise as a people more connected to our environment.
I hope we will arise as a more creation conscious people.
I believe the interconnected environment is God's sacred way of sustaining life.
"Just as Jesus appeared before his disciples in his resurrected form still bearing the scars of the crucifixion— this world is wounded, deeply, yet at the same time, there is resurrection and transformation. We are called to care for creation in its beauty and in its wounded-ness. The resurrection of Jesus offers hope of new life, for all of creation, and for generations to come." (UCC Fierce Urgency of Now Environmental Sunday Worship Materials) 
Many of us are going for walks and soaking in spring like never before,
Embracing the beauty of nature on a personal level.
On a global scale, this pandemic has allowed the Earth to breathe again.
Electricity usage has gone down.
We are tapping less oil and driving less.
Factories are blowing less chemicals into our waterways and air.
As a result the air has literally cleared.
You have probably seen the startling photo of New Delhi, India 
One side is a normal day in the fall of 2019;
The clear side is in recent weeks.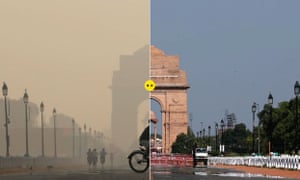 Clear air to breathe is not only better for the environment,
But better for human health – during a pandemic or not.
As a global or national society we have an opportunity now to choose how we reinvest in the future –
Do we return to our environment destroying ways –
excessive driving and travel, excessive meat eating,
excessive plastics and consumer purchases of disposable goods-
Or do we reinvest in a more sustainable, greener future?
As we rebuild our economy, will we invest in jobs that destroy the life-giving earth?
Or will we invest in green jobs that build a sustainable future for generations?
Will we invest in wasteful products or quality products that can be reused for years?
On a personal level we might take this time to look anew at our personal practices in terms of shopping, travel and activities to reassess what is truly needed and how we could cut back on driving, cut back on packaged foods, cut back on plastics, cut back on one-time use products – all of which contribute to the destruction of our natural resources. We might look to how we can re-use products and purchase quality items that won't end up in a landfill in a short amount of time.
On a global or national level, we might follow closely where stimulus money goes – and let our representatives know what we think. We might choose to invest our own money in sustainable businesses or encourage our workplaces to do so. For those with any sort of investment accounts – say for retirement – you can request your investments be placed in environmentally conscious companies.
I invite you to take this time to look at a long view –
Towards a future you may not see.
For the changes we make as a society during this time will ripple through the generations –
Long after all of us have left this earth.
What do we want to witness when we are in heaven?
We are a "resurrection people" that will arise different – transformed – from this quarantined time.
I hope we arise into a physical building
for I believe in the power of gathering in a shared sacred space.
I hope we arise a more connected people
for I believe technology can be a bridge for many to participate in our faith community,
no matter who they are or where they are.
I hope we arise more connected to our earth,
for I believe God's sacred earth must be treated sustainability,
so generations of humans have clean air to breathe and water to drink.
We are a "resurrection people",
Called to believe in and act towards life amid death,
Hope amid despair,
Love beyond self.
May we live boldly into our calling. Amen.
I would like now to share a prayer I heard from a colleague in the Iowa, South Dakota, and Nebraska Conference. Let us listen together.
Pastoral Prayer for this time: We Are Prophets of a Future Not Our Own (VIDEO from the Iowa, South Dakota, and Nebraska Conference: https://vimeo.com/405885820) 
Prophets of a Future Not Our Own It helps, now and then, to step back and take a long view. The kingdom is not only beyond our efforts, it is even beyond our vision. We accomplish in our lifetime only a tiny fraction of the magnificent enterprise that is God's work. Nothing we do is complete, which is a way of saying that the Kingdom always lies beyond us. No statement says all that could be said. No prayer fully expresses our faith. No confession brings perfection. No pastoral visit brings wholeness. No program accomplishes the Church's mission. No set of goals and objectives includes everything. This is what we are about. 3 We plant the seeds that one day will grow. We water seeds already planted, knowing that they hold future promise. We lay foundations that will need further development. We provide yeast that produces far beyond our capabilities. We cannot do everything, and there is a sense of liberation in realizing that. This enables us to do something, and to do it very well. It may be incomplete, but it is a beginning, a step along the way, an opportunity for the Lord's grace to enter and do the rest. We may never see the end results, but that is the difference between the master builder and the worker. We are workers, not master builders; ministers, not messiahs. We are prophets of a future not our own.